Ukraine conflict drives German tank orders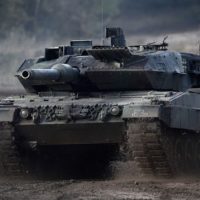 August 20, 2015 by Jeevan Vasagar in Berlin ( article in Financial Times)
Germany has halted the decommissioning of the Bundeswehr's main battle tank, the Leopard 2 Nato's eastern European members are displaying "concrete interest" in buying German heavy weaponry, one of the country's largest defence groups has revealed, as the Ukraine conflict exposes gaps in conventional deterrence.
Frank Haun, chief executive of KMW, the Munich-based manufacturer of the Bundeswehr's Leopard tank, has told the Financial Times: "In the eastern EU and Nato countries, there is very concrete interest in the establishment or upgrading of specific capabilities. Nato is aware of the deficiencies in its conventional deterrent capability."
Military action by Russian-backed groups against Ukrainian government forces has started to nudge policymakers back towards weaponry designed to resist a land assault, manufacturers and analysts added.
For Rheinmetall, the Düsseldorf-based defence and automotive company that supplies the cannon, ammunition and firing system for the Leopard tank, the Ukraine crisis has also spurred procurement.
Rheinmetall said: "Ukraine has given defence a political shove." Defence sales grew by 18 per cent to €1bn in the first half of this year, while Rheinmetall's operational loss fell from €52m to €27m, according to interim results published this month. The group is anticipating sales of €2.4bn for its defence division this year, at the upper end of its previous forecast.
KMW's turnover declined from €790m in 2013 to €750m last year, but the company is privately held and does not disclose more up-to-date sales or profit figures.
Until recently, all of Germany's defence contractors had been suffering from years of dwindling EU military spending despite collectively being the largest arms exporters after the US, Russia and China.
Ursula von der Leyen, Germany's defence minister, said earlier this year that the country's defence priorities had to shift in response to Russia's "hybrid conduct of war".
Ukraine has prompted Germany and other Nato countries to review their land forces, paying closer attention not just to tanks but to armoured vehicles that can be used to deploy troops rapidly.
Asked what equipment was attracting interest from customers, Mr Haun of KMW said: "Simply put, what would deter a potential aggressor from risking a conventional war? It's combat tanks and armoured personnel carriers, heavy artillery and heavily armoured wheeled vehicles."
Germany, which is supplying a large proportion of the troops for Nato's new rapid reaction force, has halted the decommissioning of the Bundeswehr's main battle tank, the Leopard 2. Ms von der Leyen is spending €22m to raise the number of Leopard 2 tanks in service from 225 to 328.
This newer version of the Leopard, which weighs about 64 tonnes and is 2.6m high, was most recently used in a combat deployment by Canadian forces in Afghanistan.
Germany's defence ministry is now considering the procurement of an upgraded model, with improved features including better vision.
Last year, the ministry agreed to expand an order for Boxer armoured vehicles, spending €620m on an additional 131. The Boxer is the product of a joint venture between Rheinmetall and KMW, which also collaborate on the Puma, a light armoured vehicle designed to carry infantry into battle.
Before the Ukraine crisis broke out, the Bundeswehr placed an order for 350 Puma vehicles, but the conflict has prompted calls from German politicians for an expansion of the programme.
In May, Russia also used a parade to mark the 70th anniversary of the end of the second world war to display some of its most up-to-date military equipment. Hardware on display included the Armata T-14, described by Russian defence analysts as the world's most formidable tank, which is capable of firing anti-tank missiles as well as shells.
Henrik Heidenkamp, a defence researcher at the Royal United Services Institute in London, said: "What Ukraine, and basically Russian policy behaviour, has done is to highlight to German policymakers that there is a need to think more constructively about how to strengthen the German defence industry."
This shift in priorities is not confined to Germany. Poland and the Baltic states have all announced increases in defence spending for 2015. Sweden, which is outside Nato, has also raised its defence budget for this year and is seeking increased military co-operation with Nato, analysts say.
Last year, Sweden and Norway signed an agreement with Rheinmetall to buy military vehicles, a programme with a potential total value of €1bn over the next decade.
€620m
German defence ministry spending on additional Boxer armoured vehicles
However, defence industry experts say that while Russia's behaviour has alarmed its neighbours, they do not always have the financial capacity to respond.
One defence industry executive said: "There is certainly pent-up demand in many eastern European countries, but it can be difficult to allocate budgetary resources."
Germany is now pushing for greater co-operation between its own defence companies and their European counterparts. In a strategy paper published last month, Berlin warned that the European defence industry remains "heavily fragmented".
Such European mergers have, however, frequently been blocked by politicians concerned about protecting jobs.
At the end of July, KMW merged with Nexter, the state-owned French tank maker, to create more standardised and interchangeable armaments — but this was a rare example of consolidation.
German export policy puts another brake on cross-border deals: the total value of defence export licences fell by a third to €3.97bn last year.
Dr Heidenkamp said: "There is a tension between the wish on the government's part to strengthen the German defence industry and still have a restrictive export policy. This tension cannot be resolved."